Images
Galleries in your hands

Practical default view in thumbnail mode, but, also as with other applications, possible to switch to list mode, with detailed information on the images' size, dimensions, rating and all other standard types of information available.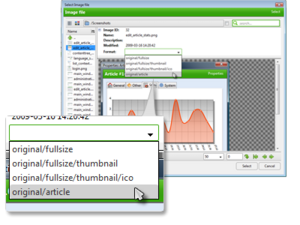 No more manual resizing

A single image can have unlimited formats, which will be created automatically after you upload or change the image. After a while, you decide to have another format? No problem! It will be generated from the previously inserted image galleries by itself, no additional work needed.


Manual image ordering
You don't like having your galleries ordered by insertion or creation date? You can drag and drop the thumbnails to the order you wish.